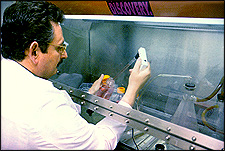 Children's Hospital of Michigan, as part of its commitment to education, both through teaching and learning, and through its affiliation with Wayne State University, is actively involved in ongoing clinical and laboratory research.
We are the only hospital in the United States to acquire a Positron Emission Tomography (P.E.T.) scanner dedicated to pediatric diagnosis and research.

Our faculty members are active researchers, publishing more than 200 journal articles, abstracts, chapters and textbooks each year.
Ongoing research keeps us at the forefront of new medical breakthroughs. Researchers at Children's are currently conducting investigations in many areas, including bone marrow transplantation, AIDS, red cell membrane abnormalities, extracorporeal membrane oxygenation, the establishment of artificial liver, efficient delivery of care, congenital heart disease, central nervous system disease in newborns, aspects of normal growth and development, CNS metabolism, clotting disorders, endocrine disorders, fetal alcohol syndrome, persistent fetal circulation, cancer treatment, clinical pharmacology and fetal surgery.

In keeping with our commitment to education, we encourage our residents to work on a basic or clinical research project during their training. We have many research labs located in Children's Hospital and at the Elliman Research Building, Scott Hall and the Lande Research Building, all part of The Detroit Medical Center campus and Wayne State University. We are now actively engaged in a fundraising campaign to create a pediatric research center.
Studies at Children's are supported by many private and public agencies such as the National Institutes of Health, Center for Disease Control, Tuberculosis Foundation, United Way, Michigan Department of Community Health, Children's Leukemia Foundation, March of Dimes and Cystic Fibrosis Foundation, and various industries. The department of pediatrics receives millions of dollars in research support each year.
Fund Raising and Special Events
Community support is critical to Children's Hospital of Michigan. Groups such as Festival of Trees, Children's Hospital of Michigan Auxiliary, Leukemia Research Life, Caring Athletes for Children's and Henry Ford Hospitals (CATCH), Tennis & Crumpets and Variety, The Children's Charity, involve local celebrities and thousands of volunteers who raise money annually and support our hospital's mission.
The Development Department works closely with our physicians, nurses, trustees, administrators and staff to encourage potential donors to encourage their support. We receive generous contributions from corporations, foundations, individuals and community organizations on a regular basis.
Hospital and University Libraries and Information Technology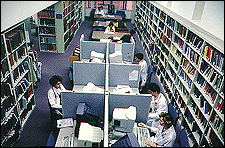 Our medical library, located on the main level of the hospital, is open to residents around the clock, every day. We have more than 10,000 volumes, with more than 700 volumes added yearly, subscribe to more than 300 periodicals and have interactive self-instructional programs and audiovisual programs.
A number of computer networks give our staff access to libraries across the country. In addition, databases of medical information can be accessed by physicians or library staff to locate the most current information. One of these networks is connected by in-house computer to the patient care units and physicians can use it to order literature for use with patient charts, to locate disease or drug information, and to access current medical information. Evening and weekend dial-in access to MEDLINE from home also is available. The Vera Parshall Shiffman Medical Library of Wayne State University serves the School of Medicine and is just down the street from Children's Hospital. The Shiffman Medical Library contains 94,000 books, 60 state-of-the-art computers, 235,000 bound volumes and carries subscriptions to more than 3,000 journals. Both libraries have quiet study areas.