The Detroit metropolitan area, with almost 4 million residents, offers convenient, affordable housing, a diverse population and many cultural attractions and sporting and leisure activities.
Detroit is home to one of the countryís finest symphony orchestras, as well as the Michigan Opera Theatre, and several professional dance companies. Summer brings both classical and popular entertainers to outdoor amphitheaters at Chene Park on the Detroit riverfront, suburban Meadow Brook, in the Oakland University campus, and the Pine Knob Music Theatre in Clarkston. Throughout the Detroit area youíll find jazz, folk and rock clubs, piano bars, cabaret entertainment and comedy clubs.

In April 1996, the gala opening of the restored and expanded Detroit Opera House received international raves. The Fisher theatre has a full calendar of touring Broadway shows and previews. The Fox Theatre, a grand movie palace first opened in 1923, has been completely restored and now presents Broadway shows and popular performers. Second City, an improvisational theatre, and aptly named Gem Theatre are nearby. All are only five minutes from Childrenís Hospital.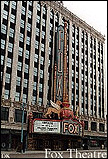 Wayne State Universityís Hilberry Theatre is the nationís only graduate repertory theatre. The university also operates the Bonstelle Theatre. The Masonic Temple Theatre, Music Hall Center and State Theater, hosts to a variety of music, dance and theater troupes from around the world, are also a five-minute drive from the hospital.
The Detroit Cultural Center, adjacent to Wayne State University and less than a mile

from The Detroit Medical Center, includes the nationally acclaimed Detroit Institute of Arts, the Detroit Science Center, the Detroit Historical Museum and the Museum of African-American History.
Housing in Detroit, in the city and suburbs, is less expensive than in many comparable metropolitan areas, particularly those on the east and west coasts. Affordable apartments and houses for rent or sale are easy to find.
Those who enjoy city living might want to investigate several modern apartment and town house developments downtown, the student community around Wayne State University, or the older, elegant buildings of Indian Village, Rosedale Park or Palmer Woods. A number of faculty and fellows find these to be charming and convenient locations.
If you prefer a suburban lifestyle, the Detroit area offers many options. Wayne, Oakland and Macomb counties have many attractive communities with excellent public and private schools. Although Oakland County has one of the highest per-capita incomes in the country, house staff can easily find affordable housing there. The Grosse Pointes and St. Clair Shores on the east and Dearborn, Livonia and Farmington on the west side are a few of the pleasant communities convenient to Childrenís Hospital.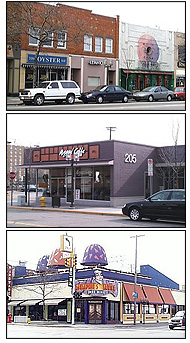 Royal Oak, a suburb about 15 minutes outside of downtown Detroit, has become a popular area for night time entertainment. Featuring a variety of cafes, restaurants, bars, and dance clubs, downtown Royal Oak has something to do virtually every day of the week.
Detroit is the "Motor City" and drivers find it easy to navigate. Freeways enable motorists to move quickly from one end of the metropolitan area to the other. Childrenís Hospital of Michigan is close to all major freeways and within half-hourís drive of most suburban residential areas.
Michigan, bounded by four of the five Great Lakes, has more than 1,000 inland lakes, many of them within an hourís drive of Detroit. Eleven Metroparks near the city and an extensive network of state recreational areas offer swimming, camping, boating, fishing, biking, and cross-country and downhill skiing.
Detroit is a diverse city, with more than 150 ethnic groups represented. International shops and restaurants abound, offering everything from African, Belgian, Chinese and Jewish goods to Japanese, Greek, Middle Eastern, Polish and Thai cuisine. Many Detroit area restaurants enjoy national reputations. Downtown Detroit has several restaurant districts, including Greektown, Bricktown, the Theater District, the Warehouse District and Mexicantown.

Detroit is represented by a team in almost every professional sport, including Tigers baseball, Lions football, Pistons basketball and Red Wings hockey.
The nationally famous Henry Ford Museum and Greenfield Village, with collections of restored American buildings and artifacts, is just outside Detroit in Dearborn. Other area attractions include the Detroit Zoo and the Cranbrook Educational Community with its art museum, science museum and formal gardens. Belle Isle, an island playground on the Detroit River, has its own beach, a zoo, a Great Lakes museum, the countryís oldest aquarium and a botanical garden. The Canadian city of Windsor is only a few minutes from Detroit by bridge or tunnel.

Every year Detroit hosts a Grand Prix auto race on Belle Isle and hydroplane races on the Detroit River. The annual Free Press International Marathon takes runners through downtown Detroit and into Canada. The Detroit-Windsor Freedom Festival, held in late June and early July, includes a spectacular fireworks display on the river that attracts more than a million viewers annually.
For weekend getaways, residents of the Detroit area have a choice of big city excitement or country quiet. Toronto and Chicago are each a few hoursí drive from Detroit, and hotels in both cities offer attractive weekend packages. Many areas "up north" in Michigan are popular spots for camping, hiking, skiing, fishing, hunting, boating or just relaxing.