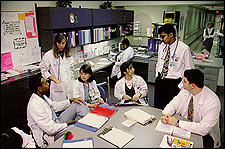 Children's Hospital of Michigan's Pediatric Residency Training Program provides more than basic education. We offer a well-rounded, balanced training experience for our country's finest medical school graduates.
As a resident in our program, you will receive a complete pediatric experience with a rich diversity of patients, many with serious and complex illnesses, that are cared for in an environment that is both academic and caring. You will get hands-on training at one of the best pediatric teaching and research facilities in the country, with the unique benefit of our intense focus on family-centered care and psychosocial issues.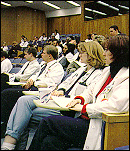 Right now at Children's Hospital of Michigan, we train more than 120 residents and 30 fellows. Nurses and ancillary staff, who demonstrate specialized skills in pediatric care, as well as love and tenderness for the children entrusted to them, work alongside the house staff.
Our referral base includes all of Michigan, adjacent states and southern Ontario. Three-fourths of the 14,778 annual admissions are to pediatric services, which includes pediatric and neonatal intensive care; hematology/oncology, nephrology, urology, neurology, cardiology, rehabilitation, and infectious diseases, as well as general pediatrics.
As a pediatric resident, under faculty supervision, you are responsible for the initial evaluation, workup and management of patients admitted to the pediatric service. Your responsibilities increase with experience and demonstrated capabilities. In addition to pediatric topics, our conferences cover ethics, practice management, chronic illness, managed care, risk management and legal issues, personal finance management, and teaching skills for residents and faculty.
Fully Accredited On-Site Clinical Rotations
Children's Hospital of Michigan's residency program is fully accredited by the Accreditation Council for Graduate Medical Education. We provide residents with an on-site clinical experience in all recognized subspecialties.
Ambulatory Pediatrics
Children's Hospital has nearly 129,000 outpatient visits each year. About 12 percent are in the ambulatory pediatric division's general pediatric clinic, the remainder in subspecialty clinics.